Protected Areas
ACCOBAMS is working on the identification of new relevant of Cetaceans Critical Habitats (CCH) in the ACCOBAMS area, in order to propose appropriate threats management or spatial management measures. The identification is based on the overlapping of areas of interest for Marine Mammals (IMMAs) and mapping of anthropogenic threats.
"INPUTS TO THE ACCOBAMS ONGOING EFFORT TO MAP HUMAN THREATS ON CETACEANS IN THE MEDITERRANEAN AND BLACK SEAS"
This report is issued from the 31st ECS Conference (30th April 2017, Middelfart, Denmark)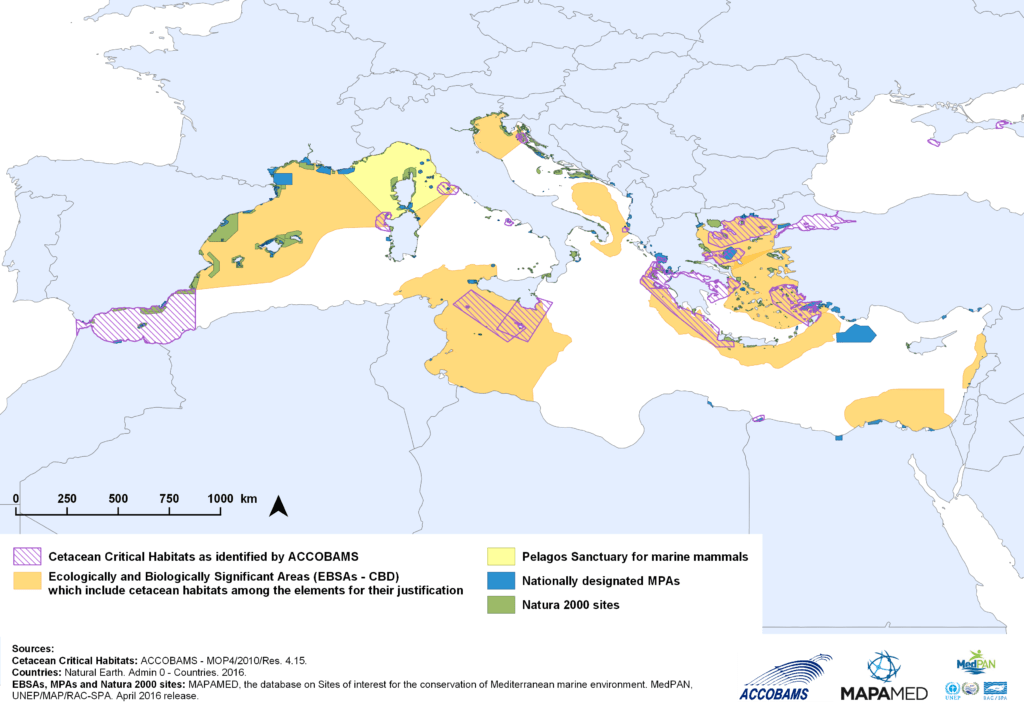 Cetacean Critical Habitats in ACCOBAMS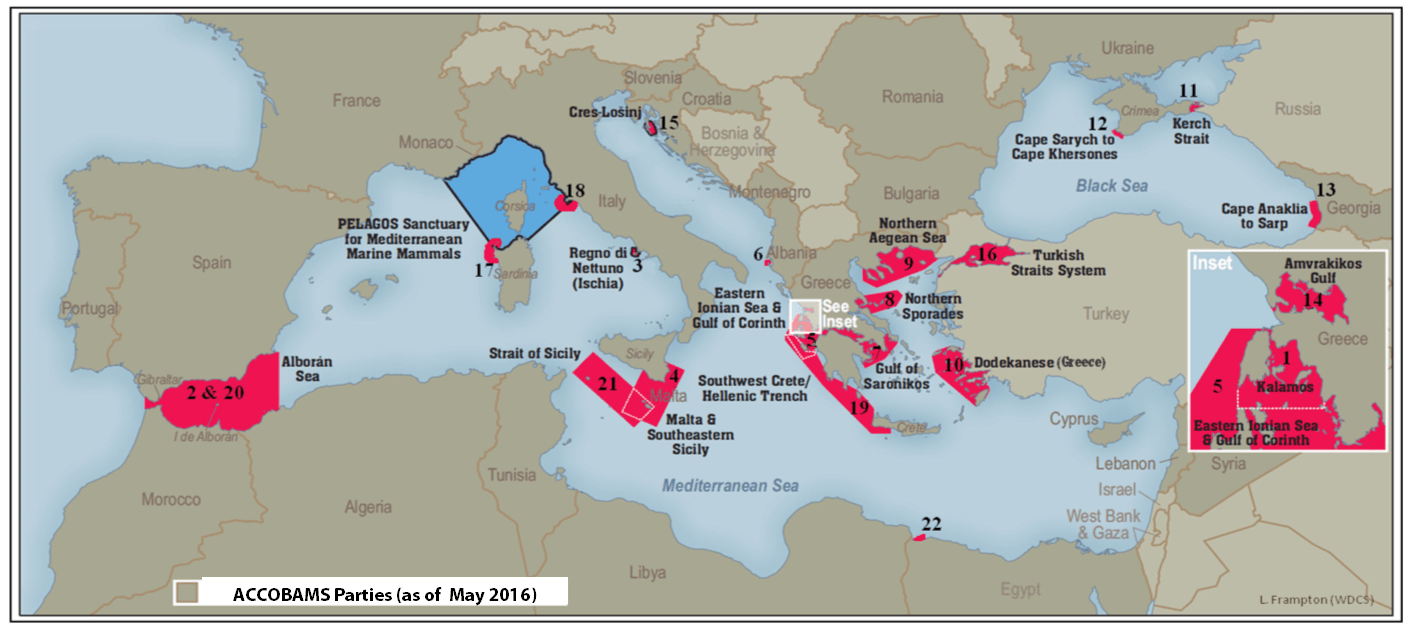 N.B.: This map is being updated through a threat management approach  that combines both the inventory of human activities and the distribution of the populations of cetaceans.

Pelagos Sanctuary for marine mammals


Cetacean Critical Habitats (CCH)
Areas of special importance for the common dolphin and other cetaceans
1.Kalamos (Greece)
2.The Alborán Sea
3.Waters surrounding the island of Ischia (south-eastern Tyrrhenian Sea, Italy)
4.Waters surrounding the island of Malta and south-eastern Sicily, Italy
5.The eastern Ionian Sea and the Gulf of Corinth (Greece)
6.The Sazani Island – Karaburuni Peninsula (Adriatic and Ionian Sea, Albania)
7.The Gulf of Saronikos and adjacent waters (Argo-Saronikos and southern Evvoikos Gulf, Greece)
8.Waters surrounding the northern Sporades (Greece)
9.The northern Aegean Sea (Greece)
10.Waters surrounding the Dodecanese (Greece)
Areas of special importance for Black Sea cetaceans
11.The Kerch Strait for the bottlenose dolphin and the harbour porpoise (Russian Federation, Ukraine)
12.Cape Sarych to Cape Khersones for bottlenose and common dolphins and the harbour porpoise (Ukraine)
13.Cape Anaklia to Sarp for the common dolphin and the harbour porpoise (Georgia)
Areas of special importance for the bottlenose dolphin
14.The Amvrakikos Gulf (northwestern Greece)
15.Waters along east coast of the Cres-Lošinj archipelago
16.The Turkish Straits system (also used by all Black Sea cetacean species)
17.North western area of Sardinia (Italy)
18.Tuscany archipelago (Italy)
Area of special importance for the sperm whale
19.Southwest Crete and the Hellenic Trench (Greece)
Areas of special importance and diversity for various cetacean species
21.The Alborán Sea and the Strait of Gibraltar
22.The Strait of Sicily for fin whales and common, bottlenose and striped dolphins
23.Sallum marine protected area (Egypt)