The CeNoBS cetacean aerial survey mission in the Black Sea just ended!
After 3 weeks and over 7,000 km surveyed over the waters of Romania, Bulgaria, Ukraine, Turkey and Georgia, the extensive aerial survey activity on cetaceans conducted as part of ACCOBAMS Survey Initiative in the Black Sea basin was successfully completed. Preliminary results of this survey are already available and presented here. The work was carried out within the CeNoBS project, co-funded by the European Union and coordinated by the ACCOBAMS Partner NGO Mare Nostrum.
8 specialists from the Black Sea worked into 2 surveys teams and travelled over 12,000 km in 19 days on board two Cessna Skymaster "Push Pull" aircrafts of Action Air Environment, monitoring a total of 7,000 km of survey transect lines. A team started from Ukraine and the other one from Georgia, simultaneously collecting data on cetaceans to address the migratory character of these species.
The leaders of the two teams were Marian Paiu (NGO Mare Nostrum, Romania) and Dimitar Popov (NGO Green Balkans, Bulgaria). Their mission was to ensure that this unique activity in the history of the Black Sea Cetacean monitoring was successfully completed.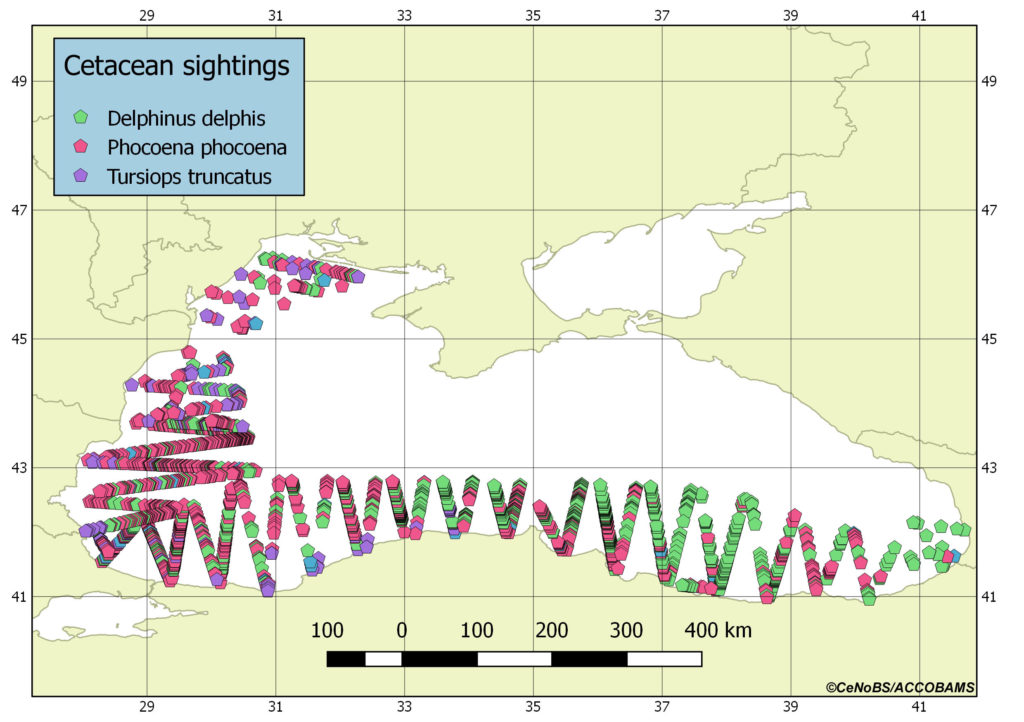 Along the sixty linear transects covered across the perimeters of the five mentioned countries, 1,750 dolphin and porpoise records were collected, each record representing 1 to 50 individuals. Bottlenose dolphins (Tursiops truncatus ponticus) were recorded in only 121 cases, a very small number compared to the other two species: harbour porpoise (Phocoena phocoena relicta) and common dolphins (Delphinus delphis ponticus). In total, 3,898 observations were made of cetaceans, marine species such as birds and rays, and human activities (fishing, transport etc.).
Despite several difficulties to overcome along the mission, the latter is a complete success thanks to the intervention of team members and experts and the support of national authorities and embassies with the overall assistance of the ACCOBAMS Permanent Secretariat.
To complete the Black Sea survey of the ACCOBAMS Survey Initiative (ASI), the Russian waters should be surveyed in August through a collaboration with Russian Scientific institutes involved in the EMBLAS+ EU-UNDP regional initiative.